Innovation Delivery
Innovation Delivery is our custom software team. We design and develop bespoke software tailored to a client's specified needs. The team has a strong background in maths, physics and computer science as well as outstanding project management expertise. Our clients include leading organisations in the fields of health, research and engineering. We work closely with out clients to understand often complex requirements. We build long-term relationships and have been working with some of our clients for more than a decade. We transform ideas and research software into commercial-quality applications.
Products
The products team is responsible for our local government products. We develop and maintain the code behind the products and we manage product implementation and configuration. Our team includes developers and technical leads, experts in local authority social services finance and legislative requirements, project managers with a wealth of experience in complex implementations and experts in data migration. Our aim is to design, develop and deliver the best public sector products and to meet our users' needs as simply and efficiently as possible.
UX Design
Our user experience design team works across the company, working closely with both our custom software and our products teams throughout the digital design and software development life cycle. We run user-centred activities to gain a deep understanding of user needs and match them with business and project goals. Our aim is to design experiences that will delight users and make our clients, developers and designers proud.
Support
Our help desk and support teams combine technical strength with approachability. We have a detailed knowledge of our software to minimise interruptions to your work and help you make the most of the application. We provide tailored training on our products and we plan and assist with upgrades. We aim to provide professional, timely and effective support that shows our customers that they are valued and respected.
System admin
The system admin team is responsible for infrastructure and data protection. Our team includes experts in systems and software to keep our infrastructure problem-free and up-to-date, as well as people experienced in the continually evolving standards and practicalities of data security. Our aim is to ensure a secure, accredited and stable infrastructure for our work and to put data protection at the heart of the services we provide to our customers. We are an ISO 27001 accredited company.
Office admin & finance
Our office admin and finance teams keep the company running smoothly from day to day. We like to keep the red tape to a minimum, while providing easy access to the information and services required by a busy and growing company. Our aim is to provide exceptional administrative services that emphasise confidentiality, communication, flexibility and accuracy to increase convenience and efficiency for both clients and employees.
Human resources
Our human resources team is responsible for HR issues across the company. We know that it is the employees, at all levels, that build the culture and the success of the company. Our aim is to provide high-quality HR services to attract, develop, motivate and retain a diverse workforce within a supportive work environment.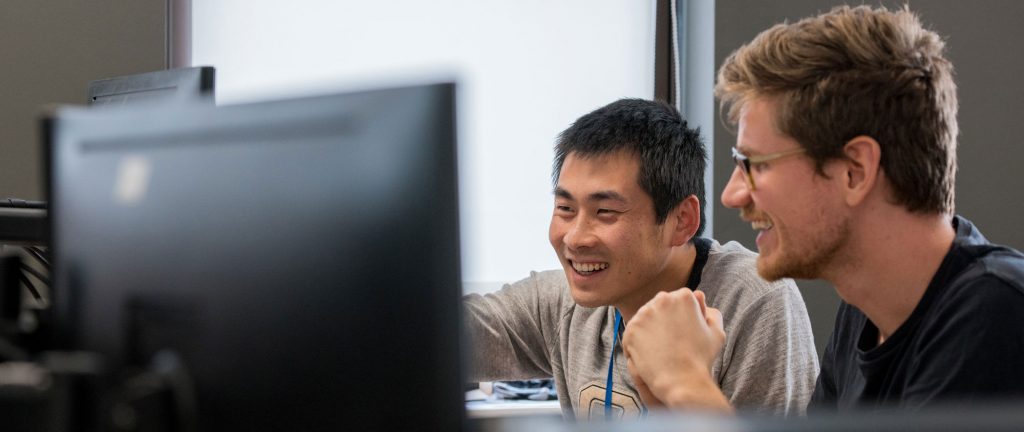 Careers at OCC
We're always looking for talented people to join us. Visit our Careers page to find your next job and how to apply.
We employ people who are technically strong and have good communication skills. We are informal but professional and we encourage a culture of teamwork. We like our employees to think for themselves, then solve problems together. We offer a package of benefits, including flexible hours, a personal training budget and a company pension. We support an apprenticeship programme which draws on the Microsoft apprenticeship programme as part of our Microsoft Gold Partner status.
All OCC's office art is supplied by Marie Boyle.