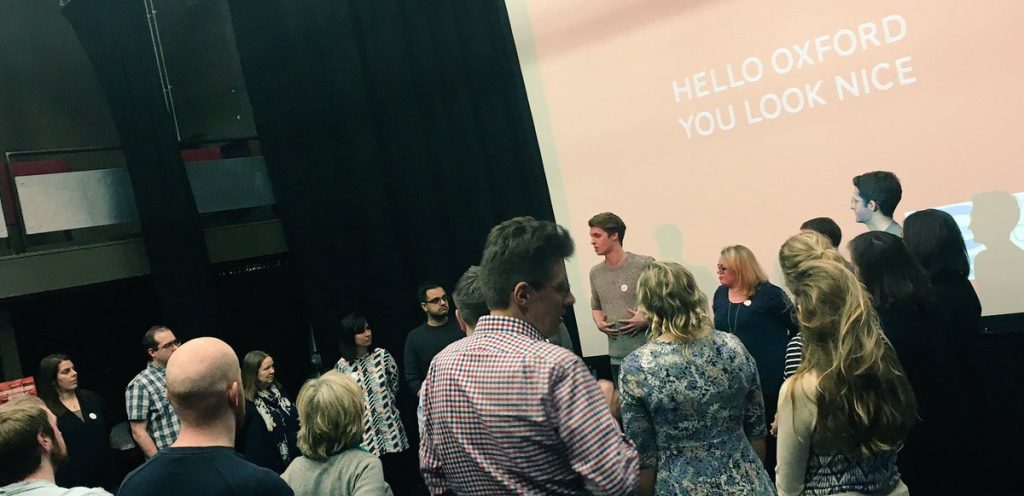 On Friday the 24th, we sponsored the #upfront workshop in Oxford, which was widely attended by OCC staff. This was a public, evening workshop for helping people build up their confidence and work on their public speaking skills, through a variety of fun and engaging exercises.
#upfront run a series of confidence workshops, with the aim of encouraging and elevating new voices on and off public stages. #upfront's vision is to make the stages around the world more diverse and accessible. Mariana Morris, our Head of UX & Design, was inspired by the message of the workshops and decided to help bring this workshop to Oxford:
"I believe that lack of confidence can hold many talented people back so it's a pleasure to support this project and help bring this workshop to Oxford. We have so much talent in the design, creative and tech scenes in Oxford that I hope this workshop can help us tell our stories louder and prouder."
Lauren Curie, Joel Phillmore and Ashley Evenson were fantastic organisers and quickly got us started on the exercises. After a group circle where we all "checked in", we got into groups and discussed what confidence meant to us, and what we wanted to achieve in the workshop. There was a really interesting and at times surprising diversity of reasons and opinions in this section. Next up, we worked through some posture, breathing and vocal exercises with professional actor Joel, which gave us all lots of valuable tips and tricks.
The last session, working on giving presentations to the group, was in many ways the most profound part of the workshop. We all got the chance to deliver a very short presentation on a topic of our choice. The organisers went to great lengths to create a warm and supportive atmosphere in the room and also gave us each constructive feedback to help us improve. There was a wide variety of talks on really interesting and surprising topics – from rowing to self care to Juliet balconies! Watching people step out of their comfort zones and grow as public speakers was touching, and deeply inspiring. Seeing people experience that they could get on the stage and do it was heartening, and as an audience we really rooted for each other to succeed.
The workshop was empowering, and we all walked away with useful tips and a deeper appreciation of each other. It was an unusual but fantastic way to spend a Friday night! One attendee had the following to say:
"This workshop has helped me so much. It's shown me that confidence is something that can be worked towards, and that I'm not alone in needing help with the next steps. Thank you for such a wonderful, beautiful experience!"
It was a pleasure to sponsor this workshop and help bring it to Oxford. If you'd like to attend an #upfront workshop yourself, there are several upcoming workshops in London. View their meetup page for more information.