As designers, we tend to use our own abilities as a baseline and evaluate designs based on our own bias. Because of this, our products may be easy to use for people who are like us, but may exclude others.
It is our social and collective responsibility, not just as designers, to create products that are physically, cognitively and emotionally appropriate for all.
Inclusive design is a methodology that enables everyone, regardless of their situation, to participate. Understanding what can prevent people participating, in both the physical and digital world, helps us to create better designs.
"We can't be creative without constraint anyway. Only with constraint can we design something truly brilliant." – Adam Silver, Designing inclusively
Isn't inclusive design the same as accessibility?
Inclusive design is a methodology that ensures that a product or service is useful, easy to use and engaging to as many people as possible. Accessibility fills the gaps and tries to remove the barriers for those with disabilities.
The subtle difference between inclusive design and accessibility is that inclusive design aims to make things work for everyone including those with recognised disabilities. It is important that we consider inclusive design and accessibility together, to create useable and accessible products or services that can be enjoyed by all.
Disability redefined
"Disability is not just a health problem. It is a complex phenomenon, reflecting the interaction between features of a person's body and features of the society in which he or she lives." Microsoft's Inclusive Design Manual
The World Health Organisation encourages us to see disability in terms of 'mismatched human interactions'. These mismatches can be permanent, temporary or situational.
Permanent – such as motor and cognitive impairments.
Temporary – a short-term injury that affects the way people interact and adapt to their environment, for example an arm injury.
Situational – moving through different environments such as a loud crowded place where it's hard to hear; driving a car when heavy rain affects or impairs our vision.
Persona spectrum
Persona spectrum is used to understand these mismatches across the spectrum of permanent, temporary or situational disabilities. It helps develop empathy and develop solutions for a broader user base that other people can benefit from also.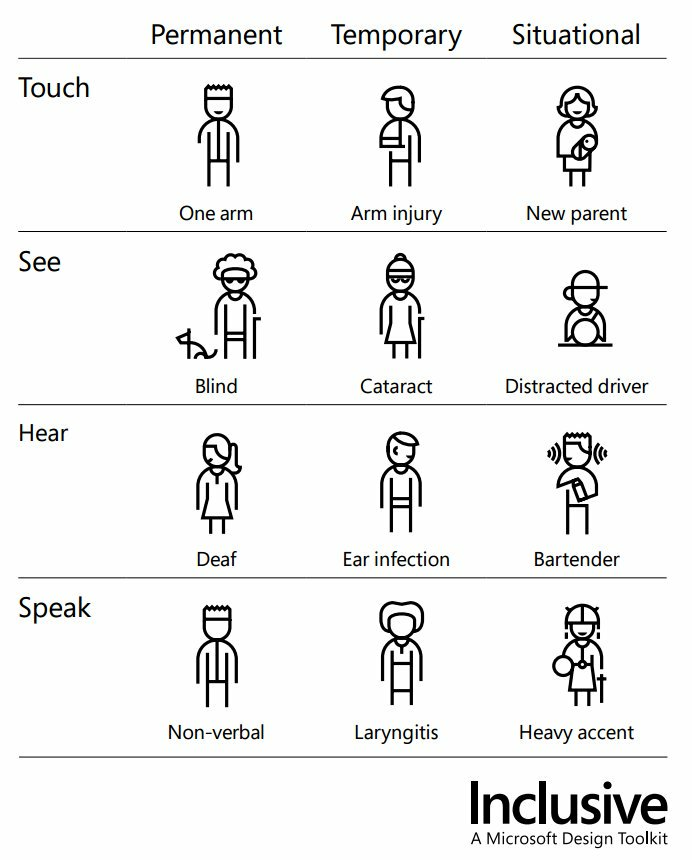 Image taken from Microsoft's Inclusive Design Manual
Microsoft's inclusive design toolkit includes activities for creating personas: https://www.microsoft.com/design/inclusive/
Practical applications
You may be wondering how you can apply inclusive design. Below are just a few ideas. The first and most obvious is bringing diversity into teams in the workplace.
Personas – remove bias from the design process by creating personas that move away from assumptions and stereotypes.
Usability tests – recruit from a diverse pool of users who represent your target audience.
Text legibility – ensure text is readable, legible and can be increased in size as well as making sense to a screen reader when read aloud.
Video/audio – provide transcripts, captions or sign language.
Navigation – make it easier to navigate a website in a linear fashion using the keyboard alone.
Language – write content that is simple and clear; everyone benefits from readable text with concise sentences and easily understood words.
Contrast – ensure sufficient contrast between text and its background colour.
Cognitive load – remove superfluous fields; identify questions that may cause users unnecessary discomfort.
Conclusion
Solutions designed for disabilities tend to be picked up and embraced by everyone. Design is a participatory activity and it is important to include people throughout the whole process.
Questions to ask ourselves are: Where are there barriers that exclude people? How can we learn from others? Who else can benefit from this idea?
Resources
Inclusive design – toolkit and manual
https://www.microsoft.com/design/inclusive
http://www.inclusivedesigntoolkit.com/
Videos
https://uxmastery.com/15-inspiring-talks-on-inclusive-design/
https://www.youtube.com/watch?time_continue=11&v=6ic8OO4ORI8
https://www.youtube.com/watch?v=bVdPNWMGyZY
https://www.youtube.com/watch?v=0q2McQR7tM8
https://www.ted.com/talks/elise_roy_when_we_design_for_disability_we_all_benefit?language=en
https://slideslive.com/38900275/inclusive-design-at-microsoft
Case studies and articles
http://www.inclusivedesigntoolkit.com/case_studies/case_studies.html
http://www.inclusivedesigntoolkit.com/promotionpres/promotionpres.html
https://medium.com/simple-human/designing-inclusively-5442ca2850ba
https://24ways.org/2016/what-the-heck-is-inclusive-design/