The most successful apps and products generally have something in common: as well as meeting a need, they are a pleasure to use. They provide the features a user wants in a clear and intuitive way, and create a satisfying journey that anticipates and focuses on user needs at every step.
So how do you get it right? How can you be sure that the interface presenting your innovation to the marketplace is providing great usability? And how do you save time – and money – by developing the right features, rather than ones that no one wants to use?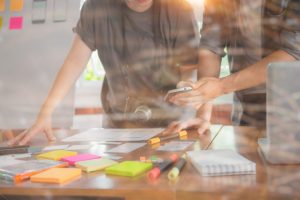 The answer is UX (user experience) design, an area in which OCC's expertise ensures that clients gain a deep and accurate understanding of what their users need and how best to embed this alongside their business and project aims.
"The first thing we discuss with a new client is the validity of their hypothesis that they have a problem, or perhaps a new development, that needs a new digital service," explains Matt Standage, OCC's Head of UX Design. "Once that's established, we embark on user research, where we go into the users' work environment and carry out both observational studies and interviews to explore exactly what is and isn't working. It's really important that we get a good understanding of what people do and don't like and that they feel involved in what's being developed. We also talk to stakeholders about their perspective on the business and features requirements."
Armed with this real evidence – as opposed to beliefs or assumptions – the UX team share their findings with the client and begin to evolve a solution. "Our initial prototype solution is often as basic as a sketch of how the new website might look," says UX designer Andrew Wilson. "We show that to the users and take their comments on board. Often we create a 'persona' – an archetypical user – to help us envisage what's needed along the user journey. Together we follow an iterative co-design process, testing successive prototypes and keeping our OCC developers lightly in the loop until we feel we are close to a validated solution that the developers can start to build."
It's an important part of the UX design team's role to ensure that the user's voice is heard throughout the process and then to act as the immediate link between the client/user and the development team. "Today, design is no longer an afterthought – it's a prerequisite," says Matt. "As well as creating the best possible interface for a product, the huge benefit it brings to our clients is that by doing user research and validating prototypes, we mitigate the risk of them spending on software that turns out to be not fit for purpose."
At OCC, the UX team is uniquely and firmly positioned within a software consultancy whose developers can deliver the solution expertly. This combination of talents has attracted a wide range of clients. "Projects have included building web solutions sites for small start-up companies and large international businesses with over 50,000 employees, as well as for public bodies like Sports England," says Matt. "We've worked with charities, on social enterprise projects like Ami – which enables volunteers to link up with people who would appreciate social contact – and developed OARS, the Oxford Acute Referral Service, which allows the online management of neuroscience patients referred to specialist services at the Oxford University Hospitals NHS Foundation Trust. There are also academic research projects such as the SILENCE project, funded by the Research for Patient Benefit Programme of the National Institute for Health Research (NIHR), plus apps for companies like National Grid. And of course, in everything we do, we follow best-practice guidelines, ensuring that elements like corporate ID and overall website design create maximum impact for our clients."