Oxford Computer Consultants has long links to Parkinson's research, being involved with a number of EU projects including Parreha, ParkService, PERFORM, and CuPiD.
A group of OCC employees and their families decided to take part in this year's Oxford Walk for Parkinson's on Sunday 25th October.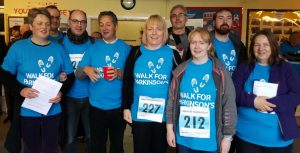 On a sunny Sunday morning, Rosalind Ravelli, Laura Walton, John and Marie Boyle, and Reynold and Liz Greenlaw all walked the 4 mile course in under 2 hours. James Greig, Andy Muddiman, Julie Mabbett and Adam Wiseman completed the 8 mile course in under 3 hours 15 minutes, with Chris Griggs being the first to complete the 8 miles course by finishing in under 2 hours!
After having cake everyday for a week, our "Eat for Parkinson's" cakes raised £134.19. This was added to the OCC fundraising page, where the total currently stands at £705.00. Thank you everyone for your support!