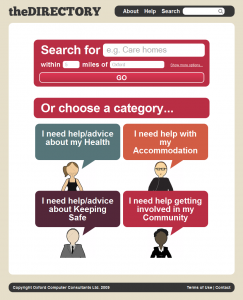 The West London Alliance (WLA) consisting of 6 London boroughs (Brent, Ealing, Hammersmith & Fulham, Harrow, Hillingdon and Hounslow) are working together to make their combined adult social care more efficient, and have chosen Oxford Computer Consultants to provide our OCC MarketPlace system to support them.
With a combined budget of £330 million a year the WLA has the greatest spend of any single local government organisation in England for adult social care. By combing their budgets the local authorities (LA's) wanted to simplify and standardise their procedures to reduce costs and get better prices from their suppliers, and they see the ability to share information across boroughs key to achieving this.
OCC MarketPlace provides the LA's with a comprehensive services directory for personalisation with information about trusted and safe services. It enables LA's to see individual budget statements showing resource allocation, care plans and client charge details.
OCC MarketPlace helps people to identify good quality, affordable services from up-to-date information and allows individuals to buy services directly via OCC MarketPlace. Users can see in an easily navigable format, details of regional or national services (with automatic links to Google maps), star ratings for services and LA quality assessment and feedback.
You can also read more about this collaboration on The Guardian's website and on UKauthorITy.com