Windows 8 tips for developers
Microsoft's Windows 8 is due to be released on October 26th 2012, but it's already in it's final state and is available to businesses through MSDN.
I've had the opportunity to use Windows 8 as my primary development machine for a couple of weeks now and there's been a bit to learn, particularly due to the introduction of the Start screen (or simply "Start" as it's usually referred to) and full-screen apps. I'll skip the obvious stuff, as I'm sure you'll have that figured out in seconds, and I'll share what I've had to figure out in order to make Windows 8 a little more developer friendly.
Start
The most evident change in Windows 8 is the switch from start menu to start screen, whilst this takes a little getting-used-to you'll be flicking in and out of it in no time, but there are some customizations that are a little hidden away.
Managing app groups
To re-order or rename your groups of apps, whilst on Start press Ctrl+- (that's the Ctrl key and the minus key; you can also hold Ctrl and scroll down using the mouse wheel) and your view will zoom out. You can then drag the groups to re-order them, or right-click on a group to show a "Name group" option in the app commands menu.
Where is the contents of Start?
When you're in Start itself, there is little you can do to customize the shortcuts other than to remove them, and if you right-click on an empty space to bring up the command menu and view "All apps", you can be presented with a messy list of all the stuff the programs you have installed decided to stick in the start menu.
Go get back in control, you can find the contents of Start in the following locations:
C:Usersyour-usernameAppDataRoamingMicrosoftWindowsStart MenuPrograms - this is your personal content
C:ProgramDataMicrosoftWindowsStart MenuPrograms - this is the content for all users, including you
Note that Start will flatten out the files in all sub-directories of a directory in either of those folders and show all the contents in one list under the heading of the first folder.
If you make any changes, you'll probably need to restart Windows Explorer before they take effect.
How do I pin a shortcut to a Remote Desktop on Start?
If you have saved a Remote Desktop connection, you might notice that when you right-click on it, there is no "Pin to Start" option. To work around this, create a new, blank shortcut and set the following as the location:
%windir%system32mstsc.exe "C:your-directoryyour-connection.rdp"
You'll then be able to right-click that shortcut and pin it to Start. You can even customize it with a useful icon if you want.
Hotkeys
For most developers I expect shortcut keys will become even more important with Windows 8 as a way of getting quickly to what you're after.
The most important hotkey for power users is Win+X, which opens a menu in the bottom left of the screen with a whole host of power-user options. You can also get this by right-clicking in the bottom-left corner of the screen.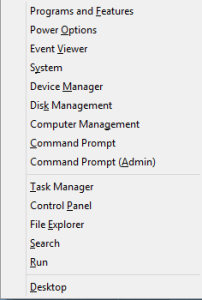 Here's a list of other useful hotkeys:
| Hotkey | Action |
| --- | --- |
| Win | Switch between Start and Desktop |
| Win+R | Opens the "run" dialog; more important now the start menu is gone |
| Win+Q | Open the app search |
| Win+W | Open the settings/control panel search |
| Win+F | Open the file search |
| Win+PgUp/PgDown | Move a full-screen app between monitors |
| Win+PrintScreen | Takes a screenshot and saves to My PicturesScreenshots |
| Win+C | Open the Charms bar |
| Win+P | Opens "second screen" charm |
| Win+I | Opens the settings charm |
Full-screen apps
I suspect full-screen apps may be of limited use to a developer, as they'll be spending most of their time with the desktop working with windowed apps, but as the Windows Store takes off we'll start seeing more and more useful full-screen apps available.
Remote Desktop App
Not installed by default, but well worth a look, is Microsoft's Remote Desktop App, which presents a very nice full-screen experience for opening and switching between remote desktop sessions. As I tend to keep remote desktops full-screen anyway, this app makes that just a little nicer.
How do you close a full-screen app?
Although apps are frozen (and eventually closed) to use minimal resources when they're in the background, you might still want to close them from time to time. The easiest way to do this is to move your cursor to the top of the screen so that it turns into a little grabby-hand, then click and drag the app to the bottom of the screen; when you release it will disappear.
Windows Explorer
The Ribbon
Explorer windows now come with the ribbon, it's minimised by default, but clicking on any of the tabs will make it pop open. There are a couple of very handy shortcuts in the ribbon that I now find myself using regularly:
Copy path - On the Home tab, in the Clipboard section, this button will copy the path of the currently selected file or folder.
New folder - A nice big button on the Home tab, also shown by default in the quick-access toolbar in the Explorer window title bar.
Show/hide - A convenient section on the View tab allowing you to quickly choose to show/hide file extensions and hidden files/folders.
Task Manager
When you first open the new Task Manager it looks a little pathetic, but click "More details" and it'll show you a wealth of information never included in Task Manager before:
Processes - The CPU, Memory, Disk and Network usage of all your apps and background processes, with great use of colour to highlight resource-hogs.
Performance - A detailed breakdown of your PC's resources with clear charts and stats.
App history - Monitoring the total CPU time and network usage of your full-screen apps.
Startup - What starts-up with your PC, including an assessment of the impact on the startup process and option to disable.
Details - The classic Task Manager view.
Services - Start, stop and restart your PC's services without needing to open the Services tool.