OCC Sponsors Young Enterprise 2013
OCC sponsored the Young Enterprise 2013 competition locally for the Best Use of Online Media. The School of St Helen and St Katharine company Wrong Way won in early May at the South East finals and John Boyle, OCC's MD, presented them with their well deserved award.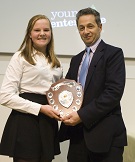 Wrong Way sells quirky, handmade hats and boxes.