Technologies
"The common feature of our software is that it tends to involve advanced mathematical programming, for instance, to analyse large quantities of data previously held on stand-alone databases".
- Kaz Librowski, Technical Director
Harness the power of technology to better your business!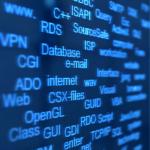 We have designed a wide range of bespoke software, from database applications and web sites to complex systems involving advanced mathematical modelling for our clients in both the public and private sectors.
Technologies are the building bricks of our business. They are the logic behind the scenes, which makes your software work. It is called the "back end". The front end is what you see on your screen. You can see something of the backend of this page, ie the HTML code, if you View its Source (Ctrl + U in Firefox and Ctrl + J in IE). Someone has to write all this, but fortunately there are numerous tools to help us.
Our IT consultants are the best!
Thanks to our highly qualified and experienced programmers who come from backgrounds in business, sciences, maths, engineering and geophysics, we can understand your business whichever sector you are in. Our IT consultants will use the technology or technologies that are best for your solution. We are proud that our consultants keep up with the latest technologies.

We are a Microsoft Gold Partner for Business Process and Software Solutions which means that OCC has achieved recognition for our commitment, expertise and superiority using their products and services.
A bespoke solution can fit your needs exactly and have the features that you want and need for your business.
Click on a technologies link below to see a list of the bespoke software solutions we have designed and developed with each one:
Technologies