Support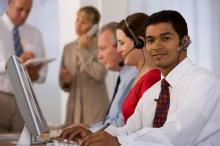 Our clients have direct support from the team of consultants that constructed their software or from our inhouse dedicated support team. We endeavour to ensure that OCC provides support from people in the original development or implementation project.
All the people supporting your software have a comprehensive knowledge of your product and will be able to resolve day-to-day problems and technical issues.
Our consultants' comprehensive knowledge and ability to communicate with clients comes from their backgrounds and expertise in computing, sciences and engineering. We also have 18+ years providing bespoke software a wide range of industries and integrated solutions for local government and providers. OCC products for local government and providers have been developed from close working relationships with LAs and their feedback to us.
Bespoke software support
From requirements analysis through construction, installation and beyond, the team that builds or implements your software is available to help and guide you through the whole process. OCC teams have frequent catchups and weekly progress meetings with progress reports. Large projects usually have small teams working on them and each member logs their progress updating their tasks and activities.
Support for Integrated solutions for local authorities and providers
When you choose one of our applications, we aim to ensure a smooth and successful introduction of the product into your organization:


We can help your plan for process re-engineering.


Project managers will ensure that things happen in the right order and at the right time.


Database experts will integrate or migrate your existing data.


Trainers will deliver the training most appropriate to your various user groups.
OCC's relationship with its clients extends beyond the initial product implementation:


Help desk and support services combine detailed product knowledge with strong technical skills to resolve any day-to-day problems or technical issues.


Program upgrades: we advise on, plan and assist with program upgrades to ensure a smooth transition between program versions.


Training programmes are focused specifically on new product features. This ensures that users maximize their existing knowledge whilst easily making the transition to new software releases.
OCC Local Government Products and Services
Oxford Computer Consultants Ltd has a dedicated support team available to answer your support requests and queries via email, phone or the OCC support website. Support calls are managed by a call-monitoring process. You will be regularly updated with the status of the call until it is closed.
Day-to-day support for CONTROCC, SPOCC (Supporting People), ContrOCC (Financial Assessments and Charging) and PSOCC (SP-Provider) is provided by our Help Desk which can be contacted by Telephone 01865 305225 | fax 01865 793124 | email support@oxfordcc.co.uk.
Support is also available by emailing the Support and Help Desk, submitting a Support Request on our dedicated Support Site or enjoy taking part in our networking and community website where you can engage with SPOCC users in one of the 40+ teams who use SPOCC on a daily basis.
Support Site for Local Government | SPOCC Social
On the OCC Support site you can


Submit a Support Request


Review / Update Support Requests


Download the latest Version or Patch


Read Documentation


Find information about Training
Networking and community website for SPOCC users
At SPOCC Social you can view user and developer blogs, watch tutorial videos, and take part in discussions on the forum.
Speak to our consultants
Tel: +44 (0)1865 305200