Partnering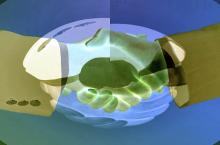 Take advantage of more business opportunities and enter new markets by partnering with Oxford Computer Consultants.
Based in the centre of Oxford, OCC is a successful business which employs 55 IT professionals. The company was founded in 1989 by two of its current directors, Dr John Boyle and Kaz Librowski.
Their entrepreneurial vision, methodical planning and supportive leadership has resulted in the company maintaining a steady growth rate of 15-20% pa since its inception.
We win awards with our partners ... Infoshare
The SOCITM IT Excellence Awards 2009 were held in Edinburgh in November, and we are delighted that the customer access category was won by the London Borough of Hackney, for whom we have helped develop their Citizen Index system in partnership with Infoshare. Read more ...
Local Government
Oxford Computer Consultants has a dedicated team and services for local authorities. With over 18 years' experience in providing integrated solutions for local authorities and service providers. These solutions have helped improve LA administrative processes by using information technology.
OCC partners with Liquidlogic to provide integrated case management and finance systems to over twenty local authorities. We have been working with Liquidlogic for over six years to develop the most comprehensive solution in the marketplace.