Web-based Applications
Web applications
Consider a few problems with desktop applications: It is costly to install and configure them on each and every work station. After this, each installation must be maintained separately; the more installations there are, the more often one will break. It is time-consuming to apply patches and updates and consequently patches are made infrequently. They are, true to their name, accessible only where the desktop is accessible. They encourage local data storage leading to data loss, and out-of-date central data stores.
Web applications suffer none of these faults. Installation happens only in one central place, and any patches need only be applied to that single installation. Users can access web applications from anywhere they could access any other website giving much greater working flexibility. There is a single, central data store that reflects immediately all the users' actions and can be safely and frequently backed up. By eliminating the desktop installation, the costs of deployment and maintenance are hugely reduced while, at the same time, workers can be more flexible and better connected.
Given these advantages, why haven't web applications replaced desktop applications altogether? For some tasks, web applications are unsuitable. If high processing power is needed, as for complex calculation, web applications are rarely up to the job. The web server is too busy handling requests to perform the computation and any processing done on the user's browser using JavaScript must be interpreted by the browser, and hence executes too slowly. Tasks requiring very advanced user interfaces, 3D design or graphing for example, are beyond the capability of web applications simply because they cannot control their appearance with enough precision. Also, tasks involving very large quantities of data, such as video editing, are not feasible because the speed of data transfer, even for modern high-speed broadband, is too slow. Even for tasks which web applications are suited to perform, there remains a major disadvantage compared to the desktop: the user interface of web applications is not live, in the sense that the web page which shows the user interface is delivered to the browser by the web server and then the connection ends. There is no further communication between the user interface and the web server until the user clicks a button or a link and the page reloads. This can make the interface of a web application cumbersome and inelegant.
Ajax, he held forth his hand
However, in the last couple of years, a new trend in web application development has come to the fore, which uses JavaScript to regain some of the live feeling of a desktop application. Popularly known as Ajax (Asynchronous JavaScript And XML), this methodology uses JavaScript to exchange information with the web server and update the user interface without that familiar page-reload flicker. The communication with the server is asynchronous, meaning that the user interface continues to function while it takes place. So long as care is taken not to rely on the JavaScript, (not all users will be able to use it) this does a lot to close the gap between web and desktop user interfaces. For example, take Google's recent Google Spreadsheets. This is one of the cornerstone desktop applications, convincingly recreated for use in the web browser. Seeing this, it is easy to imagine a large number of other possible applications that could be presented over the web.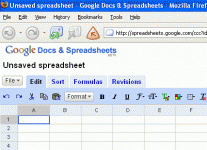 If a slicker interface makes a web application more viable, there are many other benefits to using one. A good example, and important concern for service providers and employers, is accessibility. Here, web applications benefit from the in-built accessibility features of browsers and HTML. For example, blind or visually impaired users may use a screen reader to read out the text on their screen. With HTML it is possible to embed large amounts of additional information in a page that, although not visible in a web browser, allows the screen reader to convey the intended meaning of the page, which may otherwise be lost or obscured without the visual cues from layout and images. All these features are standardized by the W3C and supported by a large body of guidelines describing best practice (Web Accessibility Initiative). Furthermore, these guidelines define an accessibility standard by which a web application can be certified. Web applications also have innate separation of style, interface, and function, making them extremely flexible visually. This can be seen in action at www.csszengarden.com, where the content of a single page is presented in hundreds of different styles without changing the HTML at all.
An example, SP-Provider
With the introduction of the Supporting People programme in 2003, OCC produced SPOCC, an SP management application for local authorities. It proved very popular with local authorities and, in 2005, we decided that we should use our understanding of the SP process to extend our coverage out to the providers of SP services. This led to the development of a new product, SP-Provider.
PSOCC (SP-Provider) is OCC's product to help Supporting People providers manage the provision of services to clients, and to produce the various statutory returns required of them. When first conceived, it presented a problem for desktop application development: a very wide range of potential customers from small, one-person outfits, to large national housing associations. We needed to produce an application that was potentially low-cost but also scalable for very large businesses. It was not feasible to deploy a desktop system like SPOCC to all of these different users.
Our solution was to develop PSOCC as a web application. Customers can buy a login to the system, OCC helps to configure it for their requirements and they begin using it via their web browser. There is no installation process, only configuration and data setup, so the new system is ready to use very quickly. Users of the system also benefit from frequent improvements made by the development team, the majority of these in response to customer feedback.
The Web is continuously moving forward. With several replacements for Ajax-style web applications already mooted, we can expect exciting developments in this field in the next year or two. Though the technology to base some kinds of application on the Web may be a way off yet, there is a surprising amount that can be done right now. Whatever the situation, new projects should consider what benefits the Web could bring.