Supply and Transport of Perishables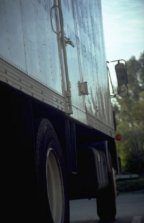 Reduces transportation costs for perishables by optimizing transport loads

Improves customer loyalty with online tracking of loads and deliveries.
OCC formed part of a Europe-wide consortium to develop the telematics FOODEX project. It is an integrated telematics service providing online support for small agricultural producers in transporting perishables for export or import.
Online transaction tracking database
Operators can track the progress of a product order at any stage in its transit, and gathers information about the performance of companies in the perishables sector. Participants record the level of satisfaction with all aspects of a completed transaction in a database to which all operators in the scheme have access.
Benefits to commercial activity
The telematics FOODEX project aims to improve co-ordination between operators in the transport chain for small producers of perishables for export. Real benefits will be gained to participants from the co-ordination of commercial activities. It will accelerate regulation, standardize methods of payment, delivery, packing and invoicing.
Speak to our consultants
Tel: +44 (0)1865 305200